The National Weather Service is warning that a major flood event could develop over this Memorial Day weekend and the last week of May.

At 8:00 a.m. Friday the National Weather Service reported the Red River to be at 24.9 feet at Pecan Point at U.S. 259 where flood stage is 24 feet. According to the NWS the river will continue rising to near 30.6 feet by early Monday morning.
Upwards of 6 inches of rain is forecast to fall across the Red River and its tributaries in southern Oklahoma and north Texas over the next week.
According to Army Corps of Engineers says Lake Texoma will top the spillway by monday regardless of additional rainfall.. Lake Texoma is currently at 638.05 feet with the flood control pool 91% full .  The lake is forecast to reach 640.0 (100%) feet by Sunday and to 640.6 (102%) by Tuesday.
"Approximately 100 Tulsa District employees, spread out over Oklahoma and Texas, are involved in monitoring and preventing downstream flooding,"" said William Smiley, U.S. Army Corps of Engineers, Tulsa District, chief of emergency management. "We are watching the situation closely and stand ready to surge our emergency management requirements should the need arise."
Over the past week, Tulsa District emergency operations personnel have issued more than 25,000 sandbags to state and municipal partners in Oklahoma, where 20,000 sandbags have also been pre-positioned in anticipation of more rain.
According to Smiley, an additional 200,000 sandbags have also been earmarked to support Texas should the need arise.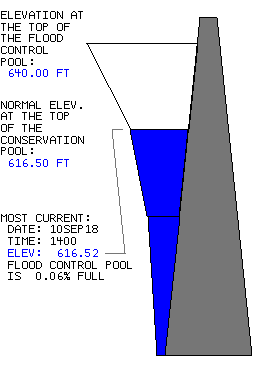 THE FLOOD WARNING CONTINUES FOR THE RED RIVER NEAR DEKALB, TEXAS. * UNTIL FURTHER NOTICE… OR UNTIL THE WARNING IS CANCELLED. * AT 8:00 AM FRIDAY THE STAGE WAS 24.9 FEET. * MINOR FLOODING IS OCCURRING AND MAJOR FLOODING IS FORECAST. * FLOOD STAGE IS 24 FEET. * FORECAST… THE RIVER WILL CONTINUE RISING TO NEAR 30.3 FEET BY EARLY MONDAY MORNING THEN BEGIN FALLING. * IMPACT… AT 30.0 FEET… SOME THREE THOUSAND ACRES OF FARM LAND AND PASTURE FLOOD. LIVESTOCK MUST BE EVACUATED TO HIGHER GROUND. MUCH OF THE FLOOD PLAIN IS INUNDATED, AND PREPARATIONS FOR A MAJOR FLOOD SHOULD BE MADE. * ADDITIONAL VERY HEAVY RAINFALL REMAINS QUITE POSSIBLE OVER THE ENTIRE UPPER RED RIVER BASIN DURING THE NEXT SEVEN DAYS. UPWARDS OF SIX INCHES OF RAIN REMAIN POSSIBLE THROUGH MUCH OF NEXT WEEK ACROSS THE RED RIVER AND ITS TRIBUTARIES IN SOUTHERN OKLAHOMA AND NORTH TEXAS. AREA RESERVOIRS INCLUDING LAKE TEXOMA CONTINUE TO FILL AS THIS VERY WET SPRING OF 2015 CONTINUES. SOILS REMAIN SATURATED ACROSS NORTH TEXAS AND SOUTHERN OKLAHOMA AND NEARLY ALL OF THE RED RIVER'S TRIBUTARIES REMAIN ABOVE FLOOD STAGE. * AREA FARMERS… RANCHERS… AND RESIDENTS ON THE RED RIVER NEED TO CLOSELY MONITOR THE WEATHER AND RED RIVER STAGES THROUGH THE FIRST WEEK OF JUNE. A MAJOR FLOOD EVENT COULD DEVELOP DURING THIS MEMORIAL DAY WEEKEND AND INTO THE FINAL WEEK OF MAY. TAKE ACTION NOW TO PROTECT LIVES, PROPERTY, AND LIVESTOCK AS MAJOR FLOODING IS FORECAST IN THE AREA!