A second round of major flooding is heading for the Texarkana area due to heavy rainfall across the Red River basin in the last week.
Area lakes and streams were just starting to recede from record breaking levels when Tropical Storm Bill brought major rain to the area once again.
According to deputy director of the office of emergency management for Miller County Terry Purvis, "Index bridge shut down last flood when the level reached around 26.5 feet. According to this, and this is a "Prediction", Index may be shut down around Wednesday or Thursday. Judging what's up stream heading our way, I'd say this is a good prediction."
Highway 8 will likely also be forced to close.
Lake Texoma is topping the spillway once again currently at 133% full.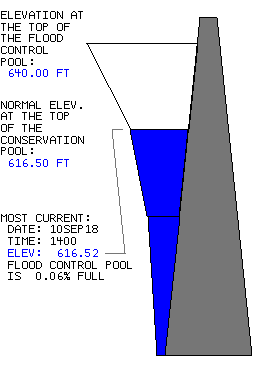 Highway 71 was closed at Index on May 29, 2015 at around 26.5 ft. due to the highway flooding just north of the river.  The river is forecast to reach 28.4 ft. by late Friday. Index crested at 31.41 ft on June 4, 2015.
Pecan Point – U.S. 259 remains closed Crest at 33.5 feet Thursday. (1.5 ft. below crest on 6/2/15)


Fulton

Here's a unique view of flood waters below Denison Dam on Lake Texoma. Our thoughts and prayers go out to everyone impacted by the high water. Water levels continue to rise at the lake and will do so for the next few days as record-setting rainfall makes its way into the reservoir and then on to the river below the dam.

Posted by Tulsa District, U.S. Army Corps of Engineers on Friday, June 19, 2015
The National Weather Service out of Shreveport has issued a statement regarding a second round of flooding, "Tropical Storm Bill brought very heavy rainfall to the upper Red River basin from June 17-June 19, 2015. A new rise on the Red River is expected to develop during the last half of this June. The Red River's major reservoirs remain swollen by stored flood waters from the historic heavy rainfall during May 2015. The greatly reduced flood storage capacity of these reservoirs have increased the flooding threat on the Red River."
"Municipalities and citizens are urged to remain diligent in efforts to keep informed and be prepared for this potential developing situation on the Red River. Extremely heavy rain fell upstream on the Red River in Southern Oklahoma and North Texas. It will take many days for this next wave of potential river rises to reach the area. Despite the river having fallen in many areas, additional rises are still possible."