Friday Night @
Fat Jacks – Calamity Janes & special guest Brooklyn Puzz, 9
Hopkins (Downtown) – Open Mic w/ Noah Rock, 8
The Paragon Lounge – Clay Logan, 8
Twisted Fork – William Bullock, 7
The Arrow Bar – Karaoke, 8:30
LaFogata – The Moss Brothers, 7
Broadway Sports Bar – Taryn & Jake, 8
Scottie's Grill – William Clark Green, 7:30
Redbone Magic Brewing – Heather Linn and Jase Bryant, 7
Saturday Night @
Fat Jacks – Heather Linn & The Deacons, 9
Hopkins (Downtown) – Parson B and The Part-Time Sinners, 8 pm
**SHOW CANCELED** Scottie's Grill – Charlie Farley with Special Guest Dillan Cate, 7:30
LaFogata – TBA, 7
The Arrow Bar – 90's Jam Featuring DelGordo & Forever Endeavor, 9
Redbone Magic Brewing – Teazur, 7
Broadway Sports Bar – Fred Searcy, 8
Saturday Events
Memorial Service for TC Police Officer Damon Lynn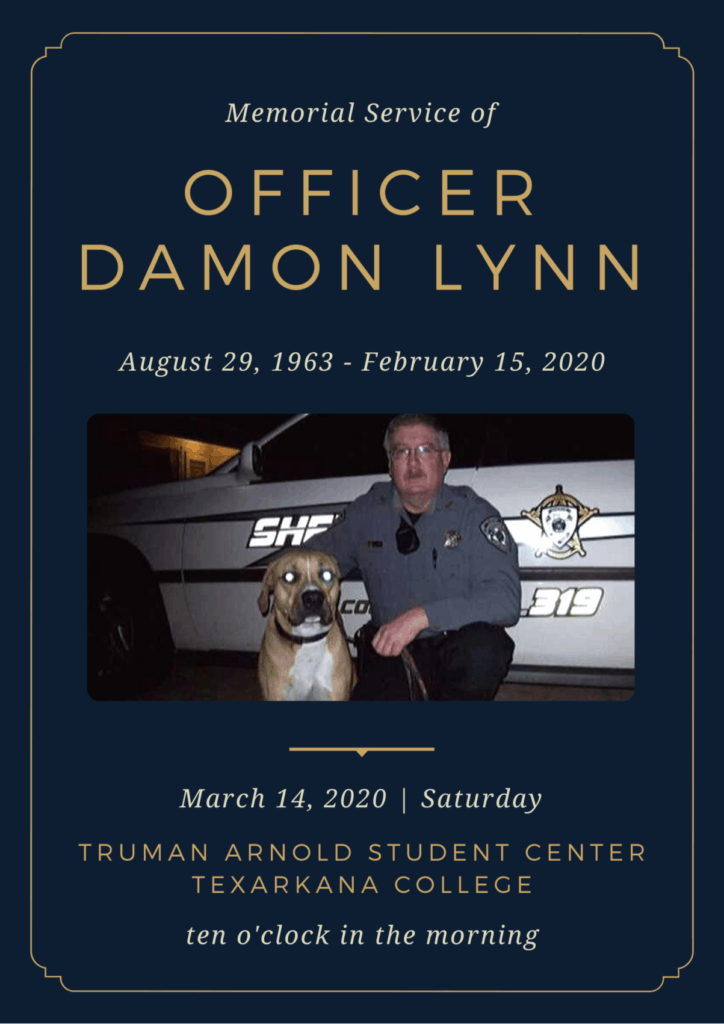 Damon Eric Lynn of New Boston, Texas, age 56, passed away on February 15, 2020. A memorial service will be held for Lynn on Saturday, March 14, 2020, at 10:00 AM in the Truman Arnold Student Center on the Texarkana College Campus, 2500 N. Robison Road, Texarkana, Texas. Pastor Kelsey Coleman will officiate the service under the direction of East Funeral Home, Texarkana, Texas.
Lynn was born August 29, 1963. He leaves behind two beautiful fur-babies, Sandy and Cassie Lynn, and a multitude of family and friends who love him fiercely. Damon was a dedicated police officer, a loyal friend and a loving son, brother and uncle.
Officer Lynn joined the TCPD in August 2016 and served as a patrolman since that time. Prior to Officer Lynn's service with TCPD, he served in law enforcement with Bowie County Sheriff's Office, New Boston Texas Police Department, Grand Prairie Police Department, and also in Oklahoma.
In lieu of flowers, a donation may be made to the Officer Damon Lynn Scholarship Fund attention Texarkana College Foundation, 2500 N. Robison Road, Texarkana, TX, 75599.
***
Troop 3 Prepares for 100th Anniversary Celebration Saturday, May 9, 2020
Caddo Area Council's Troop 3 of the Boy Scouts of America has been a part of Texarkana Scouting for 100 years, and plans for a celebration are underway.
Anyone associated with Troop 3 at any time in its history should mark your calendars for Saturday, May 9 and plan to join us at Sacred Heart Catholic Church in the Fellowship Hall starting at 6:30 PM. For those that would like to attend Mass, please arrive before 5:30 PM.
If you know of anyone that has been a part of Troop 3׳s glorious past please make sure they know about this very unique opportunity. Let's face it, Troops come and go, but it's a rare breed that can keep it going for 100 years.
Troop 3׳s 100-year celebration menu will consist of fried catfish with all the fixins', fries, drinks and desserts. Plus, a commemorative patch will be available as well.
Donations are always encouraged and thank you very much.
Follow us on our Facebook.com/groups/bsatroop3txk100 for any changes or additions. For more information please call Troop 3 Leader Kevin DuPree at 903-319- 4260 or email intax@txknet.com.
Sparse Events This Weekend. If you have a nonprofit event, Contact
Stephen@TxkToday.com